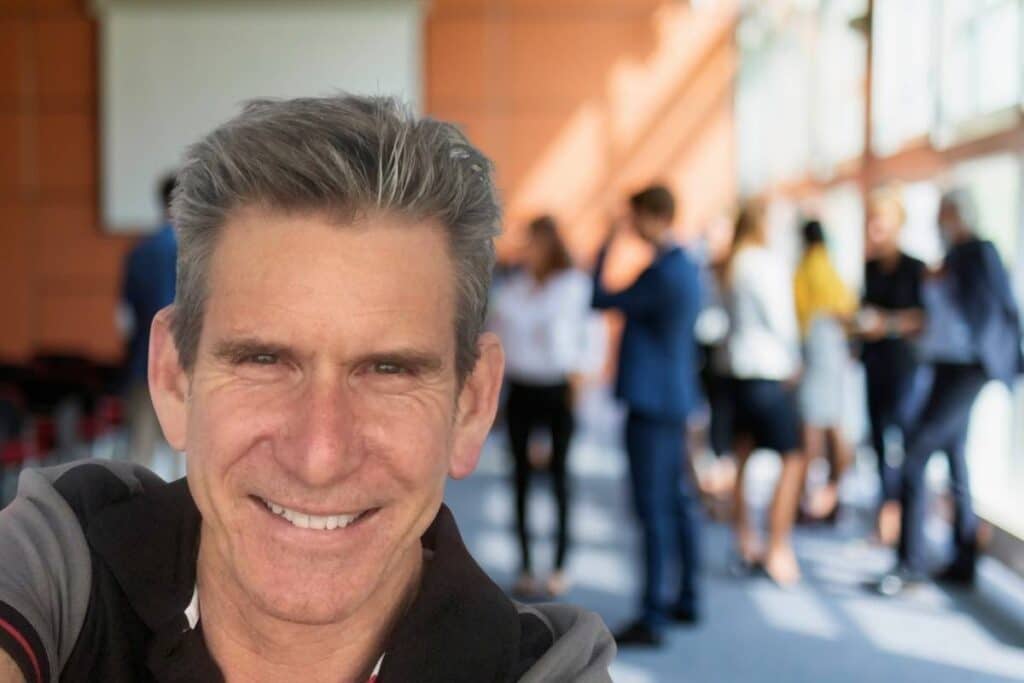 Greg and Ali have been meeting up for the last three years, consistently all the way through the COVID pandemic.
Ali is the CEO and Founder of Youth Activating Youth. Greg has had a career leading large consumer products, multinationals, and running his own businesses.
I found out about Kilfinan through my networks. I wanted to take the organisation to another level and grow its impact. To do that, I knew I needed to develop skills that I did not have – skills that I couldn't find in a book, skills that needed developing through guided experience.
Kilfinan has genuine people, ready and willing to help. They made a deliberate effort to get the right person for me, and the matching process helped the mentorship become sustainable. It's one of the best investments I've made in my life.
I found Kilfinan through a friend who suggested it to me. I was interested in helping develop people after 20 years working for global public companies in the consumer products area. Kilfinan put
me in touch with two young people doing incredible things with unlimited potential. That's one of the great things: I've learned from the people that I'm mentoring as well as them learning from me.
Greg and I have been meeting for three years now. We set up meetings monthly or bi-monthly, depending on our workload. We also have ad hoc meetings when issues arise. I was reluctant to engage openly at the beginning, but then we put structure around it, had an agenda, and committed to the time. Greg was impartial and helped me look at situations differently. He wasn't part of the non-profit space. He gave me independent senior-level advice and taught me to see relationships differently. He encouraged me to approach issues in a business-like way. It changed my perspective and
reframed my views on situations, which goes a long way. Ultimately, he helped me to think more creatively, which increased the organisation's impact. It was a game- changer for me. It gave me an advantage. I've also benefited from his technical skills in leading multinationals. His perspective on teething issues in the early stages, like HR issues and finance, helped. These things all impact a small not-for-profit. His experience spurred me to develop more technical skills myself. He was a catalyst for continuing my education and studying for an MBA.
My approach was to understand what he was all about. My value was about encouraging balance in his life, achieving his goals, and being an independent sounding board. We talked about what he has achieved, what he wants, and the milestones in that journey. Sometimes, he doubted if he could achieve the things he set out to. Then we would talk about what he needed
to make it happen by reaching out for the right support. And time after time, each problem was solved, and it gave him confidence to set the bar higher. It was hard, but he did it, proving what's possible to himself and others. Just knowing that there was a potential challenge or problem there and having the confidence to reach out to the right people can help you succeed.
Perspectives and insights
The most profound experience was the process Greg helped me through in finding a successor to make a sustainable organisation. I had been living and breathing the organisation for a decade. I had built it from scratch. My life and the organisation were deeply intertwined and were one at some point during the last ten years. They were the same thing. Beginning the process of finding a successor for the CEO role
also involved untangling my identity from the organisation. That journey has been revealing and insightful for me, the organisation, and Greg. It was a journey of self-discovery for me and finding a way forward for the organisation. Greg has sunk his teeth into the challenge and helped me find what's me and what's the organisation. That's been one of his most significant contributions.
With Ali, he's had an inner drive to help people from an early age. He's built an organisation that helps disadvantaged youth, and it's expanding. It's gone from $250k in funding to $2M over the years and now he's working on even larger scale government matching projects in partnership with philanthropists. I've learned so much about the not-for- profit space, and I value the insights that have been shared with me. The organisations are doing such important and valuable work. It's more than
interesting, it's inspiring. These CEOs are making a difference – by improving the environment, bettering people's lives, helping people that need extra assistance. Their work is so incredibly well thought out. It is humbling. It's a grounding experience. Mentoring opens up your mind. When you see what some people's beliefs can create, the power of one idea to change the lives of many is inspirational. When you see a young leader sharing their world view, it all makes you very proud.
I found the power of a mentor to be surprising- how much it can push an individual to achieve things they thought were impossible on their own. I thought I couldn't build a million-dollar not-for-profit, and now I have. Being a person of colour, I thought some of these things were impossible. But having someone in your corner telling you to operate as a business, focus on the impact, raising funds. It keeps you centred and focused.
I learned to back myself. I learned to believe in my abilities. I've learned to be more confident in developing and executing strategy. Sometimes I thought I was different; sometimes, I thought the market was not tolerant of me because of where I came from. I look at it in a different light now. I am no different from any other CEO.
The environment that he is working in is so different to my daily life. I didn't have a lot of involvement with young people making a difference in the community before, so I found what he does very inspiring.
I've gained a lot of satisfaction from helping him achieve his goals; to see him transition through this stage of his career. Above that, I value his trust
and his friendship. It was really special to me when he said in an interview recently, 
'I don't know if we'll have a mentorship like this forever, but I know we'll be friends forever'. Don't underestimate how powerful mentoring can be, and yet it's easy. You can create change by helping the leaders of these charities. Viewing the world through a not-for-profit is particularly interesting. Their work is important and makes such an impact. It's been great to understand what outstanding leaders of the next generation are trying to achieve.